Dear climate heroes,
Thornova Solar warmly invites you to the RE+ Midwest exhibition. Join us to explore our latest TOPCon technology and enjoy exclusive giveaways.
Event Details:
Exhibition: RE+ Midwest
Date: November 14-15, 2023
Location: Palmer House Hilton, Chicago, IL
Thornova Solar Booth: 211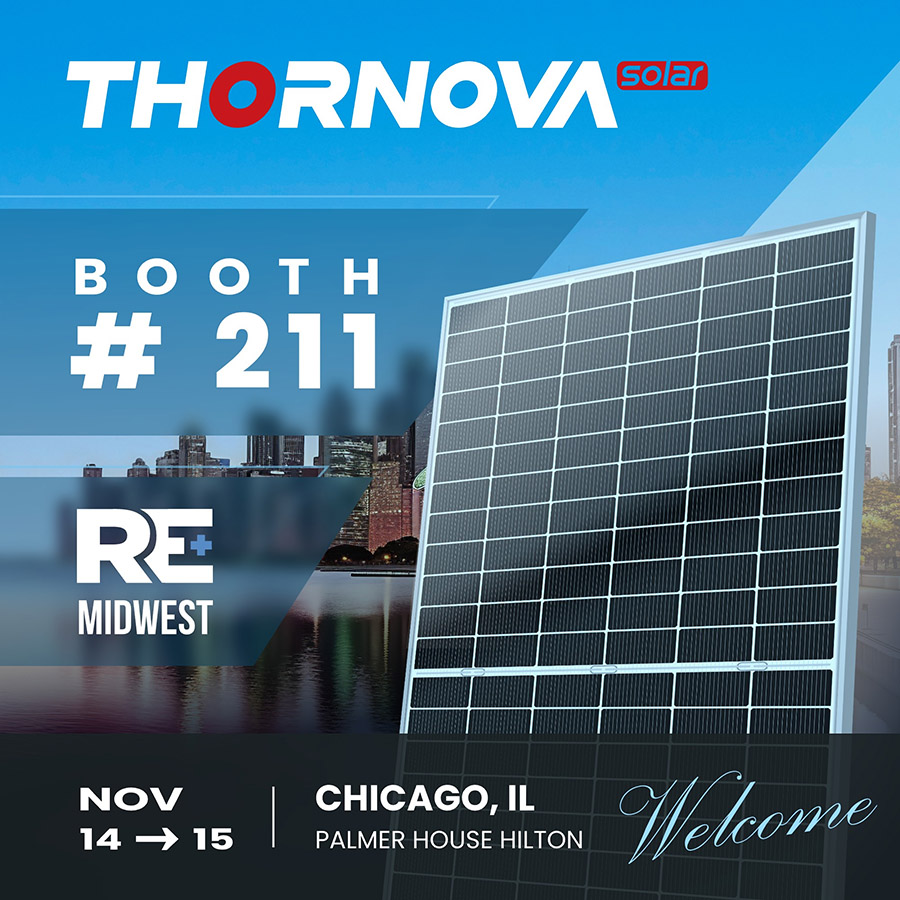 What to Expect at Our Booth:
◆ Expert Team: Meet our local operations, technical support and sales teams, ready to share insights on Thornova's story and our high-performance TOPCon and PERC solar modules.
◆ Cutting-Edge Solar Solutions: Learn about the advantages and applications of TOPCon and PERC technologies, and how they can benefit your business and contribute to a sustainable future.
◆ Exclusive Giveaways: As a token of our appreciation, we are delighted to offer exclusive gifts to visitors of our booth.
Don't miss this opportunity to connect with Thornova Solar and discover the latest solar technology at RE+ Midwest 2023. We sincerely hope to see you at booth 211 and look forward to sharing our passion and expertise with you.
For more information, please contact us.
About Thornova Solar
Thornova Solar is a Tier One solar manufacturing company offering high-performance solar modules to utility, commercial and residential customers in the U.S. and Canada. Based in Fremont, California, the company has established a state-of-the-art manufacturing facility in Vietnam, equipped with fully automated production lines and an efficient quality control system, with an annual production capacity of 1.5GW. Thornova is an independent subsidiary of Sunova Solar Technology, Ltd.